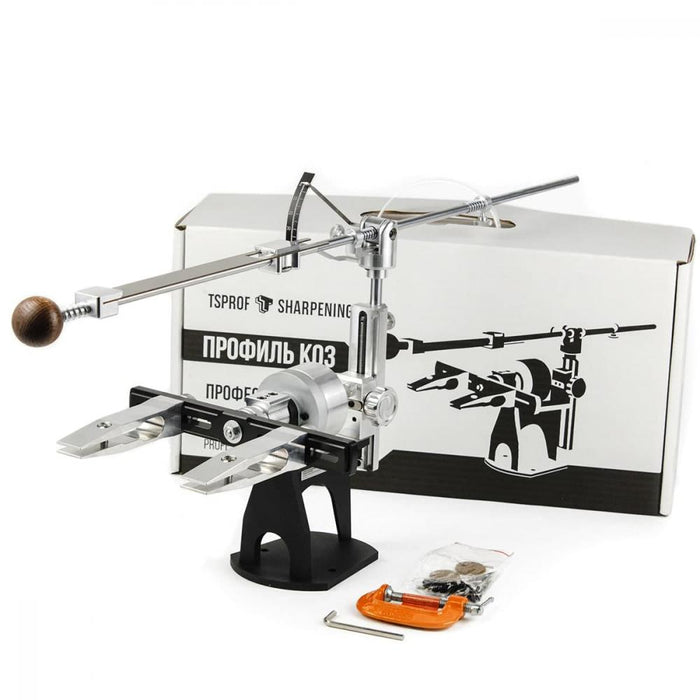 TSPROF К03 Expert Knife Sharpening System
Features:
• Large size - full-size professional sharpening system.
• Most capable TSPROF sharpener - K03 is the most universal TSPROF sharpener, best for knife makers and sharpening businesses.
• Reliable materials - Made of 7075 T6 aircraft aluminum.
• Turning mechanism - semi-automatic mechanism helps to keep the same angle on both sides of the blade.
• One hand angle adjustment - easy to set the angle thanks to the rack and pinion lift.
• Sharpening angle - from 7° to 35° per side, maximum total angle - up to 70°.
• Blade thickness - up to 7mm/0.275" in.
• Blade length - from 60 to 450 mm (in some cases up to 700 mm).
• Universal holder - use any flat-end or Edge Pro stones from 150 to 210 mm long.

Abrasives NOT included!
You can uprgade this kit to K03 Pro with Axicube-I, Pro height adjuster, steel base.
Original price
$584.00
-
Original price
$584.00
Availability:
5+ in stock, ready to be shipped