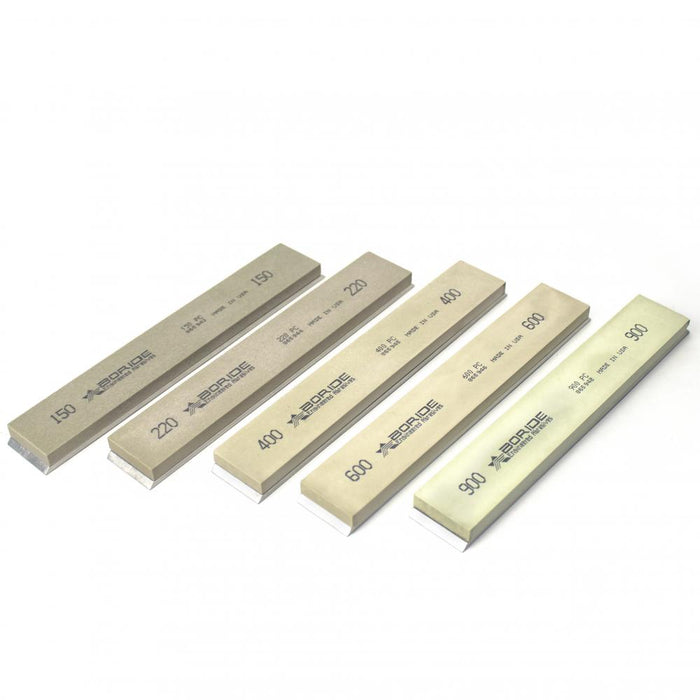 Boride PC Abrasives Mounted On blanks (5 pcs)
Original price
$94.00
-
Original price
$94.00
Availability:
5+ in stock, ready to be shipped
Boride PC (Polisher's choice) abrasive stones. This set includes 5 abrasives mounted on TSPROF-branded aluminum plates.
Boride PC are universal stones that are suitable for sharpening most grades of steel with a hardness of up to 62 HRC. The composition of the bars includes the finest grit material of high-grade aluminum oxide with a premium bonding agent.

This set includes abrasives of various grit sizes: from 150 to 900 grit. Such a set will be enough for all types of work, from roughing to final polishing.

Characteristics:
Material: aluminum oxide
Size of stones: 150х25х6 mm
Size with blank: 160х25х9 mm
Quantity in the set: 5 pcs.
Gritness (FEPA, grit): F150, F220, F400, F600, F900

On the working surface of the stone, scuffs and light white streaks are allowed. They do not affect the quality of the abrasive. Small chips that do not affect the working surface of the stone are allowed.

Work recommendations: Boride PC abrasive stones are used only with a coolant. During operation and when cleaning clogged stones, you can use a household detergent.