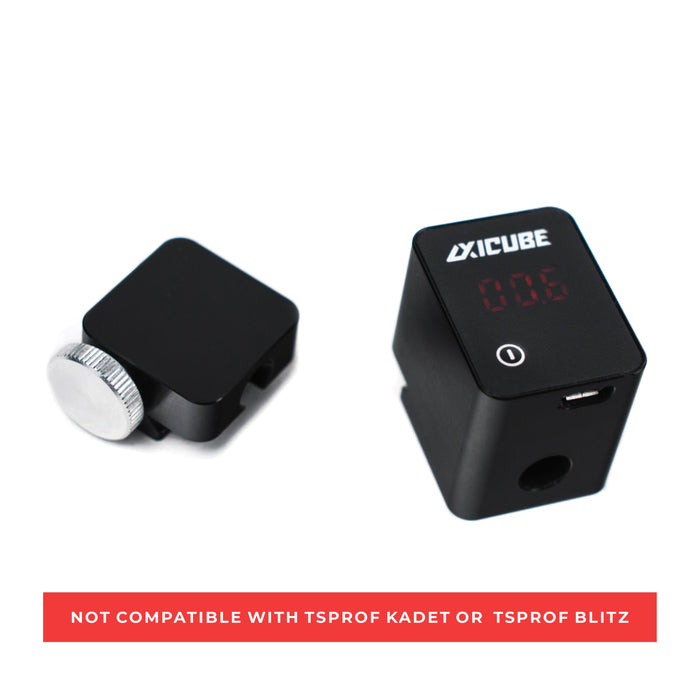 TSPROF Axicube-I Angle Finder ONLY K03 Lite and K03 Pro COMPATIBLE
Sold out
Original price
$144.00
-
Original price
$144.00
Availability:
Out of stock
Please make sure that your sharpener is compatible with this item! This item is not compatible with Blitz, Kadet, K02, K03 Standard, K03 Expert, and K03 Hunter kits. 

The Axicube-i electronic angle finder is a TSPROF-branded product. It measures the sharpening angle with an accuracy of 0.1° and helps to monitor and trace any changes in the angle, in real-time, e.g. when changing abrasives. The bright display is easy to read in all lighting conditions. The angle finder is placed in a solid case made of aircraft-grade aluminum and is resistant to vibration.
The Axicube-i is powered by a built-in battery, rechargeable via the Micro-USB connector. One charge is sufficient for a full eight-hour day of sharpening.
The angle finder fits into the abrasive holder of the K03 Lite sharpening system with a steel bar. A fixed stop is also included, allowing the abrasives to be fixed as rigidly as possible, both with and without the blank.
Warning. Proper operation of the electronic angle finder is only possible with the steel rod of K03 Pro and K03 Lite sharpeners and also when using the stationary stop supplied with the kit. Use of Axicube-i with other stops and bars may result in poor accuracy and breach of warranty by users. 

NOT SUITABLE FOR K03 WITHOUT THE NEW ABRASIVE HOLDER. TO PURCHASE AXICUBE WITH A NEW ABRASIVE HOLDER SEE THIS PRODUCT - AXICUBE-I


Technical specifications of the angle finder:
Measuring range: 0° — 99.9°
Measuring accuracy: ±0.10°
Scale: 0.10°
Battery: Li-Pol, 3.7W, 180mAh
Charging socket: MicroUSB
Charge indicator: +
Calibration: +
Auto-off: 2 minutes
This set includes:
Electronic angle finder – 1 pc.

Stationary stop - 1 pc.
Calibration plate – 1 pc.
USB – cable – 1 pc.
Warning!
The product is not designed for measurements other than sharpening, the Axicube-i can only work correctly with K03 Lite and K03 Pro!
The product is not compatible with TSPROF Kadet and TSPROF Blitz sharpeners.
The product is not intended to be used with the "TSPROF Small Universal Table" clamp.
Correct operation of the product with other sharpening devices is not guaranteed.