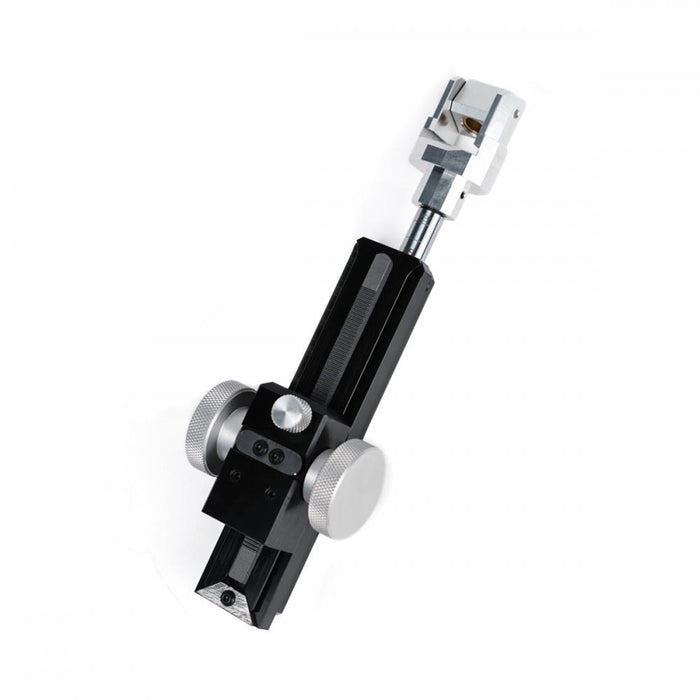 TSPROF K03 Pro Height Adjuster
Features:
• Mechanism - rack and pinion lift with super smooth adjustment
• Angles range - from 8° to 39° per side (total up to 78°).
• Material - Polyacetal - durable, wear resistant polymer with excellent anti-friction properties.

— Works with K03, K01RP, K02* sharpeners —

*needs additional parts to be mounted on K02
Sold out
Original price
$178.00
-
Original price
$178.00
Availability:
Out of stock
The TSPROF K03 Pro rack and pinion height adjuster, has a rack with toothed gearing. It allows stepless and smooth angle adjustment with an accuracy of 0.1°.
The extended angle body, due to its improved design, allows you to sharpen knives in the range from 8° to 39° with a total angle of up to 78°.
An additional lifting rod is used to increase the sharpening angle and can be fixed with a locking screw on both sides of the body. The additional rod can be used as a thickness compensator.
The lifting mechanism body is made of a highly resistant polymer material - polyacetal - a high performance and ultra-durable polymer, with a density of 1.420 g/cm3.
Polyacetal has excellent anti-friction properties and provides super smooth running of the rack and pinion lift. The polyacetal is black, highly wear and abrasion resistant, it retains its original appearance and shiny smooth surface for a long time.
The sliding part is connected with a dovetail joint, which eliminates backlash, which could affect the quality of sharpening. The additional locking screw makes the height adjuster immovable during deburring stage.
The angle measurement scale is printed on the front of the slide and allows visual control of angle setting.

The height adjuster comes assembled. It should be mounted in place of the standard one.

Suitable for: K03 and K01RP models, and with the upgrade kit on the K02 sharpener. This is not an Upgrade kit from K02 to K03 Pro!